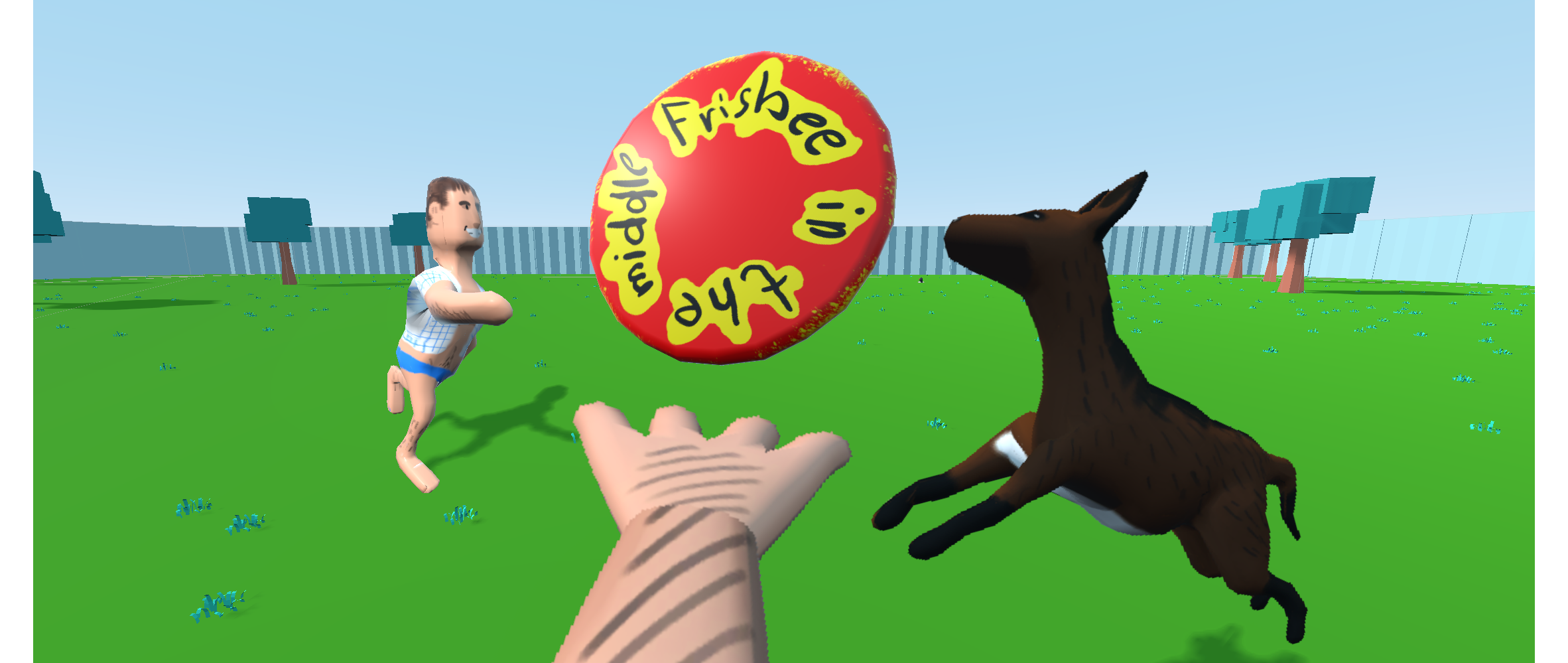 Frisbee in the Middle
A downloadable game for Windows and Linux
Frisbee in the Middle
Throwing frisbees to your dog in the park? ... NOT ON MY WATCH!!!

Ruin the day for all parkgoers in your local park, and their dog, by stealing the frisbees they throw before they reach the dog och the ground. The trouble you cause has not gone noticed however so the police will come to get you eventually. Make sure to ruin as much fun as possible before that point.
Made during Spring Game Jam 2021, organized by LiU Game Jam, based on the theme Friendly Frisbee.

Featuring a, for this jam, very topical penguin.

Playable both in VR and without VR!
Playing instructions
Catch as many frisbees as possible before the time runs out and the police arrive. Use your dog treats (limited supply) to lure away the dog from the frisbees temporarily.
Standard Controlls
Movement | WASD
Sprint | Hold Shift
Catch frisbee | Space
Throw dog treats | Q
VR Controlls
Catch frisbee | Trigger
Throw dog treats | B
| | |
| --- | --- |
| Axel Nordanskog | programming (catching), modelling (player), texturing (parkgoer, player, dog) |
| Charlie Simonsson | programming (game state, UI, player movement), environment |
| Emil Segerbäck | programming, modelling (frisbee, parkgoer, treat), texturing (frisbee), animation (parkgoer, dog), music |
| Frans Skarman | programming (frisbees, parkgoers), VR-support |
| Rosanna Zimdahl | sound, modelling (penguin), menu backgrounds |
| Spiegel | programming (dog, treats), modelling (dog) |
Install instructions
Windows
1) Download the Windows version
2) Extract Frisbee in the Middle.zip
3) Run Frisbee in the Middle.exe
Linux
1) Download the Linux version
2) Extract frisbee-in-the-middle.zip
3) Run frisbee-in-the-middle.x86_64