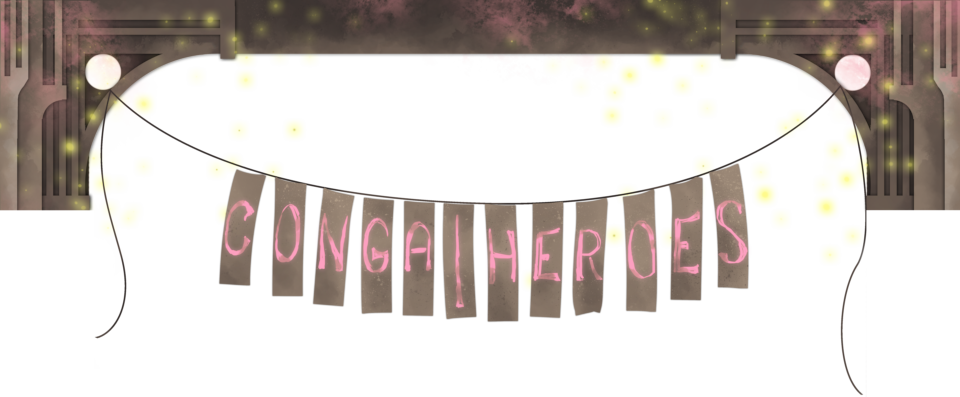 Conga Line Heroes
Conga Line Heroes
Ain't no party like a conga line party!

Lead a dashing party of adventuring heroes along a one-dimensional corridor full of perils for fame and glory using position-based real-time combat!
Fight your waves through as many waves of enemies as possible and be preparred for the inevitable boss waves.
Made during Fall Game Jam 2020, organized by LiU Game Jam, based on the theme Distance Plain.

Playing instructions
Only interaction is clicking a hero to make it swap position with the one in front. The positioning of a hero determines what ability it can use.
A new wave will spawn when all enemies, traps, chests and pickups of the previews waves have been defeated/destroyed or passed the party.
In the downloadable desktop versions, press [ESC] to exit the game.
Knight

Any position: Performs melee attacks with increased knockback.
Mage

First position: Heals individual party members (uses up a mana charge).
Second or last position: Casts ranged fireballs.
Any position: Restores mana charges over time and do slight knockback.
Has 3 mana charges.
Thief

Last position: Throws ranged throwing knives.
Any position: Performs melee attacks with slight knockback, unlock chests and disarm traps.
Chests and pickups

Chests can be opened by the Thief to reveal pickups that affect heroes as they walk past them.
Health Potion: Heals heroes
Mana Potion: Restores mana charges
Cat Fairy: Resurrects and fully restores dead heroes health and mana.
Traps

Deal damage unless disarmed by the Thief.
For full details on heroes, pickups, traps and enemies, see the downloadable Detailed Stats document below.
Credits
| | |
| --- | --- |
| Axel Karlsson | programming, voice acting, level design |
| Axel Nordanskog | programming |
| Erik Mansén | programming |
| Linnéa Nordblom | 2D art |
| Tobias Pettersson | 3D art and animation |

Pre-made sound effects
"QUICK_SMASH_003.wav" by JoelAudio
"Door_Unlocking.wav" by IPaddeh
"sword swing" by spycrah
"Fireball Cast 1" by LiamG_SFX
"Fireball" by qubodup
"Sword 4.wav" by CpawsMusic
"Arrow.wav" by EverHeat
"Magic spell heal bright bell brid reverb.wav" by ryusa
"Bear Trap" by ThePriest909
Install instructions
Windows
1) Download the Windows version
2) Extract Conga Line Heroes.zip
3) Run Conga Line Heroes.exe
Linux
1) Download the Linux version
2) Extract conga-line-heroes.zip
3) Run conga-line-heroes.x86_64
OS X
1) Download the OS X version
2) Extract CongaLineHeroes.zip
3) Run CongaLineHeroes.app
Detailed Stats
1) Download the PDF or Markdown document.
2) Open in your preferred viewer.